Update as at Wednesday 21 February 2018
The information and views expressed in this report are those of the writer and do not necessarily reflect the views of MSF
Sugar. While all care is taken in the preparation of this report the reliability or accuracy of the information provided in the document is not
guaranteed. MSF Sugar does not accept any responsibility to any person for the decisions and actions taken by that person with respect
to any of the information contained in this report. The contents of this report are copyright to MSF Sugar. Any unauthorised use, copying
or other dissemination of this information shall be considered illegal and is strictly prohibited. 
2017 Season Pool Prices (Pool valuation as at 15 February 2018)

Forward Season Pool Prices (Pool valuation as at 15 February 2018)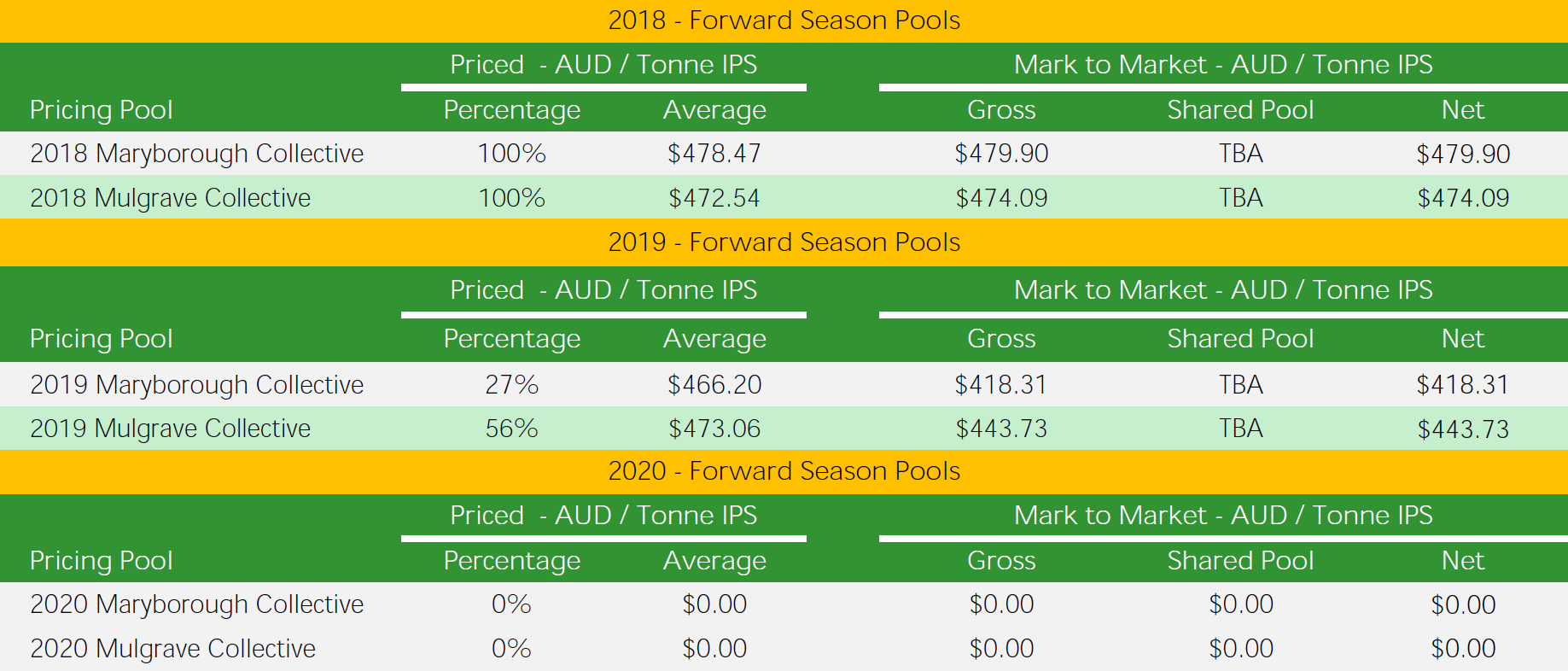 Net AUD/T (IPS) subject to change with changes in the ICE 11 market price affecting unpriced exposures, movement in the AUD/USD exchange rate and also due to  movements in the Shared Pool.
 ———————————————————-
Major Headlines
The Dubai Global Sugar Conference wrapped up on the 6th of February. Major points of discussion centred around the possible ethanol/sugar mix in Centre South Brazil with consensus being 42/43% of cane will be converted to sugar compared with 47% in 2017.
The Thai harvest continues to progress very well with cumulative crushing reaching 52.1 mln mt as at the 8th of February which is the highest ever tonnage for this stage of the season. Thailand remains on track for a record cane crop of around 112 mln mt, sugar content throughout the crush has been good.
Commodity prices have stabilised after their worst six-day losses since August 2015. West Texas Crude prices have fallen over $5 per barrel since the start of February.
The AUD has strengthened from its Friday low of 0.7769 to be currently buying around 0.7870 USD. To illustrate the importance of currency to AUD sugar prices, at a sugar price of USD14c/lb, a depreciation of the Aussie by 50 points (half of one cent) against the USD adds around AUD4 per tonne.