Natural Raw Sugar can be used in any food and beverages as a direct substitution to white (refined) sugars, typical raw sugar.
Recipes using NRS are listed below (more to come)
---

Toffee Cake
Ingredients
Cake
Toffee Topping
Plain flour 125 g
Coffee powder 2 tbsp (for stronger flavour use 3 tbsp)
Cocoa powder 2½ tbsp
Natural Raw Sugar (NRS) 200 g
Baking powder 2 tsp
Unsalted butter (melted) 150 g
4 eggs
Salt 1/8 tsp (pinch of salt)
Unsalted butter 150 g
Evaporated milk 60 g
Natural Raw Sugar (NRS) 140 g
Salt 1/4 tsp (skip if uses roasted & salted cashew nuts)
Roasted unsalted cashew nuts 170 – 200 g
Coffee powder 1½ tsp
Plain flour 3½ tbsp
Procedures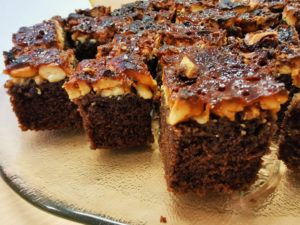 Preheat the oven at 175°C.
Grease and line a 25 cm (10 inch) square cake tin with baking paper.
Sift together x 3 times all the dry ingredients (flour, salt, baking powder, coffee, and cocoa powder)
In a stand mixer (or hand mixer), whisk eggs on high speed for 3-5 min, gradually add Natural Raw Sugar (NRS) gradually, until all NRS is added and dissolved. Continue whisking for 5-10 min until light, fluffy and smooth.
Fold in sifted dry ingredients.
Add melted butter and mix well
Bake for 30 min or until a skewer inserted into the centre comes out clean. Let the cake cool in the tin.

Toffee Topping
Heat the oven to 200°C (top heat only)
In a saucepan, mix together butter, Natural Raw Sugar (NRS), evaporated milk, and salt (if using). Bring to a boil over medium heat and keep stirring until the butter and NRS are dissolved. Add coffee powder, stir until dissolved. Add plain flour and stir quickly to combine, the mixture will become thicker.
Take the mixture off the heat, add roasted cashew nuts. Mix well, and spread over the top of the cake, place in the oven for 15-20 min, bake until topping is golden brown.
Cool in cake tin. Remove baking paper and cut into desired bite size pieces and ENJOY!